iPhone repair parts/iphone spare parts for different models
There are 9 generations of iPhone which is popular in the market currently, iPhone 4/4S/5/5S/5C/6/6 plus/6S/6S Plus. They use different parts. For example, iPhone 5 parts is incompatible with iPhone 6 parts. All those iPhone parts are standard electronics parts, it is not so easy to produce them. So if you bring a crashed iPhone to a repair shop, they can only open and check the iPhone. If any parts of the iPhone is damaged, they just replace it. A special repair shop need to stock plenty of iPhone parts for replacement, especially for those hot models.
How many parts inside a iPhone?
As we said, different iPhone model have different parts inside, but almost all iPhone have these parts: iPhone LCD, Touch screen digitizer, Back Housing,iPhone Battery, Front Facing Camera, Back Rear Camera, Charging Dock flex cable, Power/volume/mute flex, Audio Jack Flex, Light Sensor Flex, Earpieces Speaker, Loudspeaker, Wifi Antenna, Vibrator Motor, Home button with flex .... Some iPhone parts are special designed for a model. For example, iPhone 4 and 4S have Middle Frame, but other models don't have. There is a new iPhone parts called Home connection flex inside iPhone 6. For a repair shop, it is necessary to backup those iPhone parts for replacement. below picture shows most iPhone 5C parts list: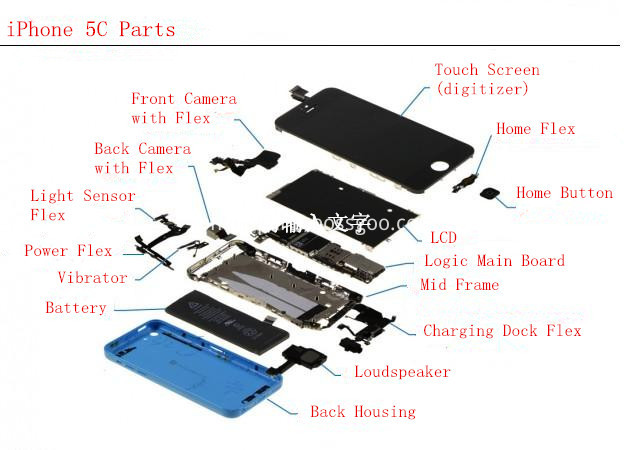 Which iPhone parts is easy crash?
investigation shows, there are 3 parts inside iPhone which is always damage: display screen, Back housing and battery. when you drop a iPhone mobile to ground by accident, the touch screen always crashed, and the LCD screen always exploded. The accident also may scratch or distort shapes on back housing, which make it urgly. What is more, after longtime using, the battery is powerless, it is very necessary to replace a new battery to get more power. It is very easy to find those 3 iPhone parts for replacement in the market, so never be worry about it.
How to replace iPhone parts correctly?
It is not so easy to make iPhone parts replacement for a normal people. Firstly, he need to test the iPhone to ensure which parts are broken. Then he need a special repair kit to open the mobile, and find the broken parts, then make a replacement. Many parts are assembled together, it is very easy to damaged other parts without special training. ifixit show iPhone repair details step by step, users can find professional procedure of iPhone parts replacement there.