To repair a iPhone, some iPhone repair tool are necessory. Such as screw driver, tweezers, spudger.... It is very easy to get those tools in market. But for a special smartphone repair shop, they need full set of iPhone repair tools, expecially some very professional kit. It is lucky we have all those special tools. All iPhone Repair Tools and machines can be find in our shop.
What repair tools are need for a repair shop?
There are too many kinds of iPhone repair tools. We can divide them into 9 main kinds: iPhone cleaning tools, iPhone consumable tools, iPhone cutting tools, iPhone ESD safe tools, iPhone Gripping Tools, iPhone inspection & measuring tools, iPhone Prying & Opening tools, iPhone soldering & wiring tools, iPhone tool kits. If the smartphone shop also refurbish screen, they need other more machines and tools, such as LCD seperating maching, OCA laminating machine, Mid Frame laminating machine... let's talk one by one.
iPhone cleaning tools
There may be some dirt or overflow glue on surface of cellphone, iPhone cleaning tools are special used to remove it. To do this work professionally, we need cleaning cloths, cleaning liquid, Anti-static brush, dust blower, scratch brush, detailing eraser, cotton swabs, Tip cleaning ball, Anti-dust film and other cleaning tools.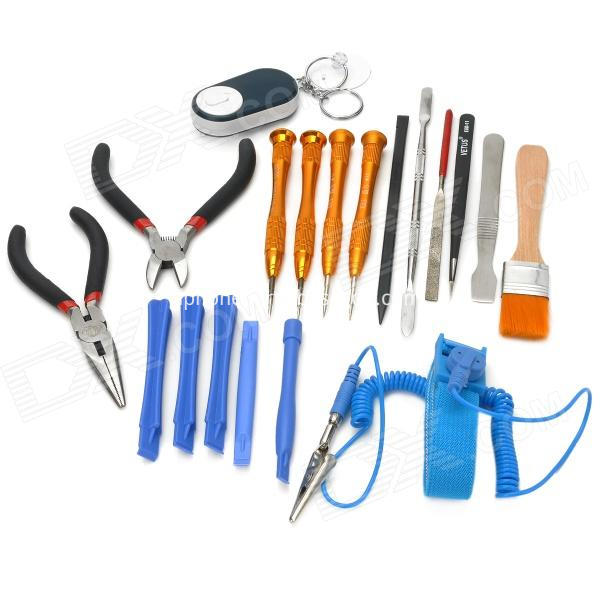 iPhone consumable tools
After using, the iphone consumable tools will be consumed. Just like those consumable parts, you need to continously buying them. For example: Spudger, Plastic Opening tools, Double-side adhesive sticker, polyimide tape, arctic silver arcticclean, Solder leaded rosin core, Alcohol, conductive glue. Some tools can only be used for 1 time, them finish. So you need always stock some consumable tools for iPhone in the shop.
iPhone opening tools
Special tools are needed to open a iPhone. Except screwdriver, there are many other tools, such as plastic card, small suction cup, spudger, plastic opening tool, iPhone opening picks, dust suction cups, islacker, metal spudger set, Sim card eject tools, heat gun, icorner tools. You may don't need all of them, but the screwdriver and suction cup and spudgers are necessary. What is more, we have many kinds of iPhone opening tool sets. 5 in 1 kits, 8 in 1 kits, 12 in 1 opening set, 24 in 1 iPhone opening kits.... what ever you like, you will find a perfect iPhone opening tools set here.
iPhone inspection & measuring tools
As a smarphone repair shop, you need some machines and tools to measure the iPhone before repair. You need to know the problem clearly, then can make a correct repair. iPhone LCD tester is used to test the screen function; LCD testing flex is used to connect screen to tester, Battery testing machine is used for battery inspection...
iPhone repair Tools for screen refurbishing
To refurbish iPhone screen, these machine and tools are need: iPhone Screen Seperate Machine, Glue Remove Machine, OCA Film Machine, LCD OCA Laminating Machine, iPhone Midframe Laminating Machine, Metal Module, Metal Line, Conductive Glue, Scroll Wheel.