iPad Mini is the sister version of iPad 4 tablet, it is also released on November 2nd, 2012. As a smaller and lighter version of the iPad tablet, iPad mini features a 1024-by-768 163 pixel per inch touch-sensitive display, a dual core 1 GHz processor, 512 MB of RAM, and three flash memory options of 16, 32, or 64 GB. External connection and power supply is handled by a Lightning port, in place of the Dock Connector port of earlier iPads. The iPad Mini has a rear-mounted 5 megapixel "iSight" camera and a front-mounted 1.2 megapixel "FaceTime HD" camera. It seems, iPad mini is the climax of Apple tablet currently. As iPhone changing to bigger display, iPad not so hot as before. But iPad mini is a excellent product in our memory.

If you iPad Mini is out of work, or work less efficiently, (for example, difficult vto view the screen or headphone sounding not clearly), the iPad mini need to be repair. Or if you drop or bump it to ground, it also cause many unhappy problems. This type of damage can make the device virtually useless, but it can be costly to replace it. Instead of purchasing a new iPad Mini, consider buying replacement and repair parts to get your device working like new again. We offer all replacement and repair parts for the iPad Mini, including the Touch screen digitizer, LCD, Battery, Back Housing, Home button, Headphone jack and more.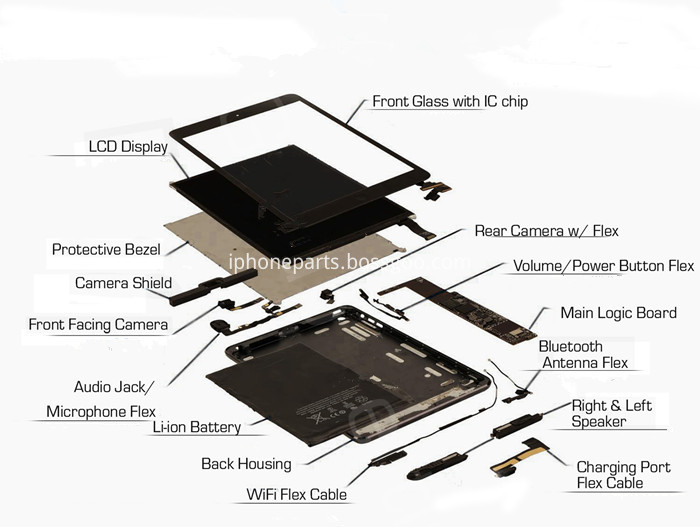 Any iPad Mini replacement and repair parts you need can be found in either black or white to ensure that you will be able to match your device perfectly. Within our selection of replacement parts for the iPad Mini we also offer additional products that can help prevent damage from occurring to the device. The protective case shown here can prevent damage to the outside of your iPad Mini, and the screen protectors offer protection from scuffs and scratches to the screen. If you need repair tools for your iPad Mini, we have those within our iPad Mini replacement and repair parts section as well to ensure you have everything you need to get your device looking and working like brand new again.
iPad Mini Touch screen digitizer
In spite of other iPad tablet, iPad mini digitizer need to welded with IC chip. It is a very diffcult work for normal people. Even for repair shop, bad operation may cause damage to IC chips and digitizer. So, mostly, the IC chip is welded to the digitizer. We kindly suggest customers not to buy iPad mini digitizer seperately to avoid risk.