iPhone 6S Plus is the largest and latest iPhone from Apple. It is loved by thousands of Apple fans, because of the large pixel and powerfull function. As large requirement, the iPhone 6S Plus spare parts are always out of stock in the market. It is difficult to buy iPhone 6S Plus parts for replacement than other iPhone parts, even offer higher price. If you are annoyed about this problem, you come to right store. We offer all kinds of repair parts on a iPhone 6S Plus phone, from a screw to back housing, from IC to battery.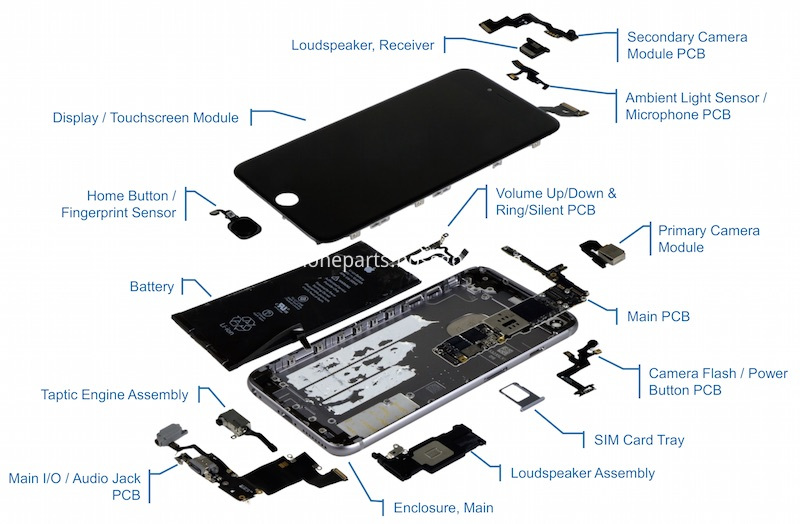 Main Spare Parts on iPhone 6S Plus
The upper photo show all parts of a iPhone 6S Plus, from inner to outside. For a repair man, you many don't need to stock all those spare parts. But if you know them well, it will be helpful to improve your technology.
iPhone 6S Plus surface parts for replacement: Back Housing, Digitizer Touch Screen, Home Button, Power/Volume/Mute key, Sim Card Tray, Screw Full Set.
iPhone 6S Plus inner parts for replacement: LCD, Motherboard, Charging Dock Flex, Power on/off Flex, Battery, Front Facing Camera, Back Rear Camera, Vibrator Motor, Loudspeaker, Earpiece, Home Flex, IC Chips ......
iPhone 6S Plus LCD Screen replacement
As the most important spare parts of iPhone 6S Plus, the display screen is very expensive. We offer 100% original iPhone 6S Plus screen with top quality. It is same quality as genuine LCD from Apple. No diex pixel, no touching delay, no defect. If you crashed the iPhone 6S Plus by accident, and damaged the screen, you can easily use this LCD screen to renew your phone.