Apple Watch is another great product from Apple after iPhone and iPad, it is hotest in 2015. However, it is not so easy to find those Apple watch parts for replacement. If users crash it to ground by accident, and damage the digitizer or back housing or any other parts inside the Apple watch, it is headache to repair it. All part inside Apple Watch are very small, to open the housing and make parts replacement need special technist.
To help user reduce problem, and replace those Apple watch parts successfully, we list all Parts inside a Apple Watch: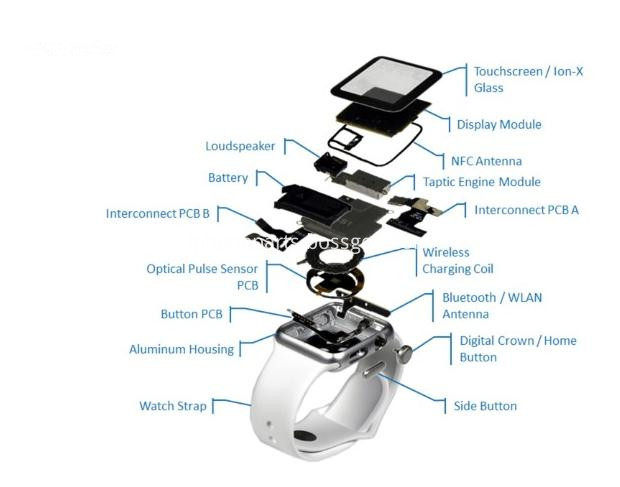 There are more than 16 parts in a Apple Watch, such as touchscreen glass, Module, NFC Antenna, Taptic Engine Module, Interconnect PCB A, Wireless Charging Coil, Bluetooth Antenna, Home Button, Side Button, Watch Strap, Aluminum Housing, Button PCB, Optical Pulse Sensor PCB, Interconnect PCB B, Battery, Loudspeaker... But mostly, the touchscreen digitizer, the battery and aluminum back housing is easy to damage, we always need them for replacement.
Apple Watch have 42mm and 38mm size. But the repair parts inside it are almost same. Only the Watch Bracelet and Back housing are different side.
All the Apple watch parts from us are 100% new and original. They are top quality and work perfectly. As standard size, they fit the watch perfectly.