iPhone 5 Parts list

Apple released iPhone 5 in 2012, it is a very excellent cellphone in both software and hardware. In spite of iPhone 4S parts, there are many special iPhone 5 parts. Lets list all parts in a iPhone 5 as below:
iPhone 5 Display screen (iphone 5 lcd,iphone 5 screen and digitizer assembly), Back Housing, Battery, Home button with flex, side key set, Charging dock flex, Power flex, Screw full set, Earpiece speaker, Front facing camera, Back rear camera, Loudspeaker, Mainboard flex, Power flex, Proximity Light sensor flex, Vibrator motor, Sim card connector, Wifi antenna ...
Compare to iPhone 4/4S parts, there are few difference:
1. iPhone 5 middle frame and back housing are assembled together, so there is no mid frame in iPhone 5 any more.
2. iPhone 5 Back housing are made of alloy, it is makes the mobile stronger.
3. The light sensor flex and power flex in iPhone 5 are seperated.
4. iPhone 5 has a mainboard flex cable, while all before version don't have this parts.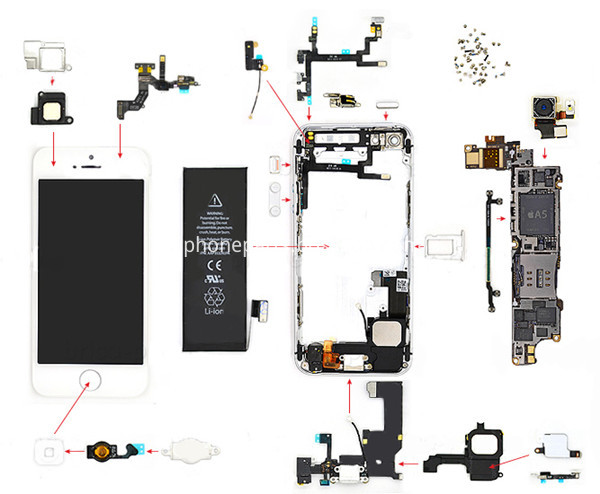 Repair iPhone 5 with new parts

Grasp hair wildly for your cracked, damaged or corrupted display screen for iPhone 5? Replace the cracked one with a new touch screen assembly. Another concern comes,how much is the expense for the screen replacement? Fortunately, we provide a perfect solution of supplying LCD screen and digitizer assembly at low price.
The iPhone 5 Spare parts feature a couple of iPhone 5 touch screen replacements from diverse levels of source: screen replacement for iPhone 5(third party),LCD replacement for iPhone 5(Original).In contrast to screen replacement for third party, the original LCD replacement is originally manufactured and assembled.
Why Buy iPhone 5 Parts from us
1. All iPhone 5 parts can be find in our store, not only normal LCD screen, but all other mentioned repair parts, such as adhesive sticker, IC chips. It is very comfortable for you, no need to go other place. Some small parts for iPhone 5 are not listed, please contact us for quotation.
2. We have plenty kinds of iPhone screen for selection, not only original screen, but also OEM screen and Refurbished screen. All screens are top quality and work perfectly.
3. Except screen, all other iPhone 5 parts are 100% new and original, they work perfectly.
4. All parts of iPhone 5 from us are 100% tested before shipping, we offer 12 months warranty.
5. We are very professional to help customers fix many problem on replacement.