When we talk about iPad 2 parts, we mainly mean iPad 2 Touch screen, LCD, Back Housing, Battery, Home button flex, Audio Jack Flex and other spare parts for replacement. However, iPad 2 have wifi and 3G version. iPad wifi parts are always different from 3G version. Please pay attention to the iPad 2 version before searching a parts.
iPad 2 was released March 11, 2011. It is offered through AT&T or Verizon in the United States. Data service can be purchased monthly, and does not require a long-term contract. Changes from the first iPad include the new A5 processor as well as a front-facing and a rear-facing camera. This iPad model was offered in 16, 32, or 64 GB capacities with color options of white or black.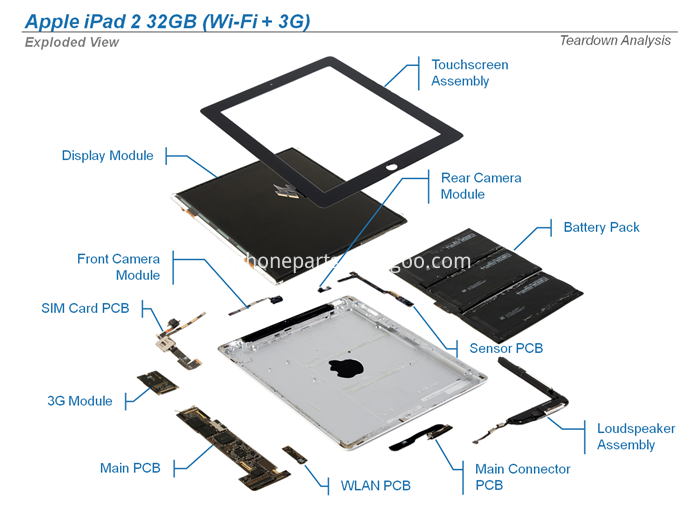 If you damage the iPad 2 screen or back housing by accident, it is not wise to buy a new iPad, but you can replace those parts which is broken. We offer high quality spare parts for Apple iPad 1, 2, 3, 4, Mini, Air at wholesale price. We even offer parts for iPad mini with retina display, iPad mini 2, iPad mini 3 and iPad Air 2. You can easily find all iPad parts from us for replacement, including screens, digitizers, LCD, Touch screen, Flex cable, battery, Charging Ports, Back housing, antenna, Frame Bezel, home button. We also offer iPad accessory and repair tool kit. You are in a professional iPad parts world, you can get parts.
There are 2 kinds of iPad 2 touch screen digitizer from us currently: original and copy. They all work well in iPad 2. The original iPad 2 digitizer is better in quality but higher price; copy iPad 2 touch screen is lower price. Customers can choose as he like. Except the digitizer, all other parts are original. We offer 12 months warranty for all our iPad parts!