High quality Display screen replacement for iPhone 6S Plus parts. It is totally new and assembled by third part. In spite of A or B quality LCD screen, this high quality screen is 100% tested by our LCD testing procedure. It is perfect in function and appearance, no scratch, no stripping, no spot, no dead pixel, no overflow glue, distortion and other problem. We offer 12 months warranty for all our product. Any defective screen will be replaced immediately.

Display Screen for iPhone 6S Plus parts

Specification
Top quality for

6S Plus parts

Same as Apple iPhone use
Weight: 80g
Color: black ,white and gold
Resolution:

1024x768




Replacement part for iPhone 6G. It is used to repair wrong, damaged, cracked, notrecognised LCD, touch screen

Comes with pretective plastic film on the screens and safe packing

It is perfectly compatible with: For iPhone 6G

Replacement part for iPhone 6. It is used to repair replace your wrong, damaged, cracked LCD, touch screen
Comes with protective EVA packing, 100% safe on delivery
No dix pixel, no spot, no frame loose, no other display and touch problem.
We fixed Camera ring + Sensor holder + earpiece dust mesh + sponge.
Fit Apple iPhone

6S Plus parts

perfectly

Tested before shipping and 100% working well
Delivery in 48 hours after confirm payment
It is perfectly compatible with: For iPhone

6S Plus.



We highly recommend professional installation - parts damaged during installation are not accepted for return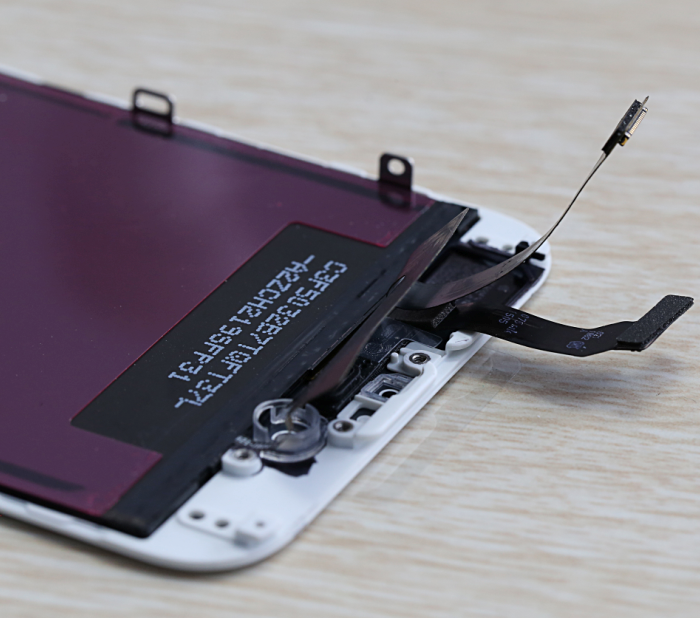 Normal problem of

Display Screen assembly for iPhone 6S plus parts
1.If the package is strongly pressed or damaged on delivery, it may cause this problem. However, our product are well packed with inner EVA box, and outter foam carton. Double protection bring safe to all our product.
2.We check our product carefully. These dirty Display screen is not allow in our system.
3.We will fix all small parts on our screen, including the camera ring + anti-dust metal grid + sponge on back of connector. And we won't accept used LCD. If there are any screen which no fix small parts, please tell us. Your feedback is very important for us.
4.If the adhesive/glue is not enough, or the quality is no good, it always cause the LCD frame stripping. Our worker will try to peel off each frame on testing process, if any problem, refused it.
5.It is a usual problem, that the LCD screen don't fit the back housing perfectly. If the frame size is not in standard, it will cause lifting while install the LCD into the back housing. It is very hard to put it on or even impossible. To avoid this problem, we mached all LCD with housing in testing procedure. So our quality is always much better than others.
6.If the backlight of LCD is broken, the light will penetrate the film, and cause display problem. So please never clean the backside of LCD with alcohol.
Warranty
1. All screens are 100% tested before shipping. They work perfectly!
2. We exchange for all no-install screens! Please test all screens after package arrive. If there are any defects, please contact us for exchange.
3. We won`t exchange for installed screens! Please never install any screens before testing. Wrong operation always cause damage.
4. Please ship defective LCD back to us. After get it, we will reship it immediately. Customers pay return cost, we pay reship cost.
5. Please pack the LCD well, If the return LCD is scratched or crashed because of bad packing, we will refuse exchange.
6. All our products have 1 year warranty before installation. If you don`t like our quality, you can return it and ask refund in 12 months.