Apple released iPhone 6 on 2015. It is a most powerful product which is popular all over the world. If you drop the iPhone to ground by mistake, the screen may crashed or scratched, then you need a new LCD screen for replacement. This 100% original LCD screen for iPhone 6 is the perfect solution. It use original LCD + original touch screen digitizer + original Frame bezel + original Flex Ribbon. Original means best quality. It will perfectly renew your iPhone 6 mobile, which looks like same as before.

LCD Screen for iPhone 6 Specification
100% Original Brand New for iPhone 6

Original Touch screen digitizer + Original LCD + Original Frame bezel + Genuine Flex

Same as Apple iPhone use
Weight: 80g
Color: black and white
Resolution:

1024x768

Replacement parts for iPhone 6. It is used to repair damaged or cracked LCD screen.

Comes with pretective plastic film on the screen and safe packing.

It is compatible for iPhone 6.

Replacement part for iPhone 5. It is used to repair replace your wrong, damaged, cracked LCD, touch screen
Comes with protective EVA packing, 100% safe on delivery
No dix pixel, no spot, no frame loose, no other display and touch problem.
We fixed Camera ring + Sensor holder + earpiece dust mesh + sponge.
Fit Apple iPhone 6 perfectly

Tested before shipping and 100% working well
Delivery in 48 hours after confirm payment
It is perfectly compatible with: For iPhone 6

We highly recommend professional installation - parts damaged during installation are not accepted for return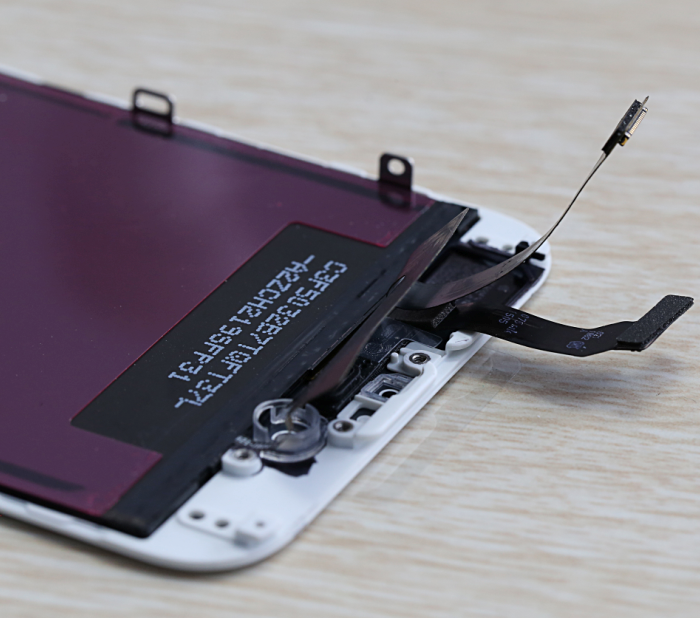 Why Buy Original LCD Screen for iPhone 6?
1. Original LCD screen means top quality, it bring more reputation and more business.
2. Very less defect. It will reduce trouble and dispute from your customers.
3. Many iPhone users only want oriignal LCD Screen for iPhone 6 to replacement.
4. All our LCD screen have 12 moths warranty. We replace all problem lcd and you have 0 lost on them.
How to distinguish Original screen for iPhone 6 from copy?
1. Original LCD screen have Apple logo on both LCD flex and touchscreen flex cable, but copy without.

2. Original LCD display perfectly under sunlight, while copy LCD show nothing.
3. There are 2 special patterns in top corner of original screen backside (both left and right).
Warranty
1. All screens are 100% tested before shipping. They work perfectly!
2. We exchange for all no-install screens! Please test all screens after package arrive. If there are any defects, please contact us for exchange.
3. We won`t exchange for installed screens! Please never install any screens before testing. Wrong operation always cause damage.
4. Please ship defective LCD back to us. After get it, we will reship it immediately. Customers pay return cost, we pay reship cost.
5. Please pack the LCD well, If the return LCD is scratched or crashed because of bad packing, we will refuse exchange.
6. All our products have 1 year warranty before installation. If you don`t like our quality, you can return it and ask refund in 12 months.