If your iPhone 5 screen is damaged or scratched, and you want to buy a new LCD to replace it, this is the best option. 80% Repair shop in USA and Europe are using this OEM screen for replacement.... It will work pefect on the smarphone, no dead pixel, no touch delay, no display problem, no dirty, no scratch and any other problem. In a word, this is the perfect backup LCD screen for iPhone 5. We 100% test all screen before shipping out. All small parts are fixed in this OEM screen, the camera rings, sensor holder, earpiece mesh, sponge. OEM LCD screen for iPhone 5 is popular for it's good quality and competitive price.
OEM LCD Screen for iPhone 5 Specification
OEM Display screen (LCD + digitizer) assembly for iPhone 5

Original LCD Screen+ Original Flex cable + OEM Touch Screen Digitizer + OEM Frame Bezel

Color: white and black


Weight: 65g

Compatible:

for iPhone 5

Quality: new and no used

100% tested? yes

Double testing bring best quality, the factory test it, and our technist test it again.




Warranty: 12 months

We will fix all small parts, including Camera ring + Anti-dust grid for earpiece +

sponge on back of connector.




Package Include:

Digitizer + LCD + Frame assembly

Perfect EVA box packing, 100% safe on delivery.

Can be used to repair a broken or cracked screen.
Should be installed by an experienced professional.
How many kinds of LCD Screen for iPhone 5 in market?
There are 4 kinds of display screen for iPhone 5 in the world currently, as below:
New and original LCD screen for iPhone 5: It is brand new and 100% original. All parts inside the screen are original, such as the LCD, the digitizer, frame bezel, Flex cable. It is the best quality in the world.
Refurbished but original LCD screen for iPhone 5: all material in this screen are original, but it is refurbished. Somebody replace some parts of the screen. The material is perfect, but the procedure and quality may be not so perfect as it is refurbished. Mostly, it is a good choice for repair shop who have high standard on it's repair parts.
Original LCD + copy digitizer for iPhone 5: as it is not so easy to produce the LCD, many people collect some used LCD. They seperate the screen, and assemble the LCD with new digitizer and frame. Currently, 70% display screen for iPhone 5 in the market are this kind of screen. The LCD are original, but the touchscree digitizer are copy. This screen is always perfect in display, but may have small defect on touching function.
Copy LCD + copy digitizer for iPhone 5: it use Chinese LCD and Chinese touch screen. The flex cable are also different. This screen is little weak in display. But more and more users are using this display screen for replacement, as its much lower price.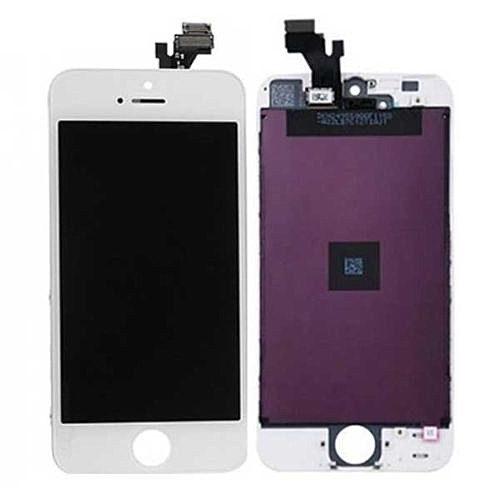 Warranty
1. All screens are 100% tested before shipping. They work perfectly!
2. We exchange for all no-install screens! Please test all screens after package arrive. If there are any defects, please contact us for exchange.
3. We won`t exchange for installed screens! Please never install any screens before testing. Wrong operation always cause damage.
4. Please ship defective LCD back to us. After get it, we will reship it immediately. Customers pay return cost, we pay reship cost.
5. Please pack the LCD well, If the return LCD is scratched or crashed because of bad packing, we will refuse exchange.
6. All our products have 1 year warranty before installation. If you don`t like our quality, you can return it and ask refund in 12 months.